(Note: This post may contain affiliate links. I make a small commission on any purchase you make, with no extra cost to you)!
You might have heard the exciting news by now, I will be apart of the Holiday Cricut Craftfest Summit this October! I'm so thankful to share my Holiday Cold Cups with Vinyl workshop with you! Below you will find tips for my workshop so you will be prepared on my presentation day!
What is the Holiday Cricut Craftfest you might ask? Well let me tell you! The Holiday Cricut Craftfest Summit is a free 5-day event to help you craft your way to confidence with 37+ inspiring Cricut projects for all skill levels with a fun holiday twist! The summit will run from October 3rd- 7th, 2022.  All you have to do is register for your free ticket HERE, and Abbi will send you reminders to your email leading up to the event. Then on each event day, she will email you a link to 8 Holiday Workshop videos! The link to the workshops will only be active for 24 hours at 9am EST and new workshop videos will be released the following day 9am EST.  This event will be packed with talented speakers who are ready to help you confidently craft with your Cricut machine to create handmade gifts, decorations, and projects for this holiday season!
We've got a pop-up Facebook group where you'll find fellow Cricut besties, ask the speakers questions, and whatever else we come up with!  You will get links to Facebook group after you sign up.
You can attend the summit absolutely free, but you can choose to grab the Cricut Craftfest VIP-Access Pass at any time. The Holiday Cricut Craftfest VIP-Access Pass will give you instant lifetime access to the summit (meaning you get all the videos for life), plus project templates, video transcripts, and over $500 worth of exclusive Cricut bonuses from the speakers!  The VIP-Access Pass is currently being offered at a special price, Once the summit has started and everyone has had a chance to see how incredible the content is, it will increase to full price. So don't wait and get it by Oct. 3rd.
In my Holiday Cricut Craftfest Workshop, you will get 2 Christmas SVG wraps, and 1 Christmas Cup Care label.  These will only be FREE for 24 hours on DAY #3, Oct. 5th, 2022.  So register now and set your reminders so you won't miss my workshop!
Below you will find the schedule for each workshop! Click on gallery to view details! Find all the holiday craft projects you want to make and save the date to your reminders, so you don't miss out on them! We have a great line up of talented Cricut Crafters check out all the details HERE!
If you feel you won't be able to attend the event for any reason, but don't want to miss out, try the VIP Access Pass! The price will increase when event begins and will increase again post event! So check out the Early-Bird Price HERE!
Holiday Cups With Layered Vinyl Workshop with Gina C. Creates
Here are some tips to help you be prepared for my workshop on Oct 5th, 2022.
List of supplies need: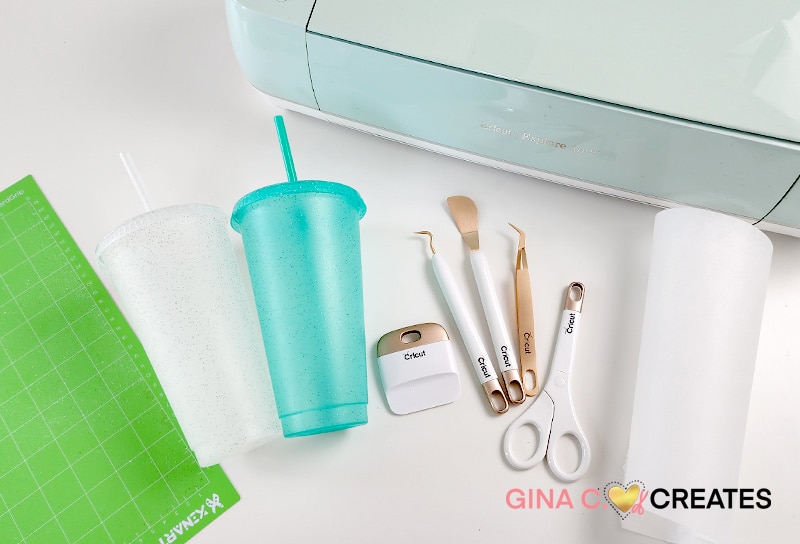 Vinyl colors:
Snowman wrap – Textured metallic gold, White, Red, Mint green.
Christmas trees wrap – Textured Sliver metallic, Teal, Turquoise, Power Pink.
Design Space: 
Make sure to upload the correct file, the SVG file for layers
Check the size in Design Space. Sometimes DS has glitches and it can upload the wrong size. The correct size for the snowman wrap is 10.25 in width. The Christmas tree wrap is 10.54 in width.
Cup Care Label size is 3.65 inch.
Have a notepad and pen handle to write down any tips from the workshop videos, if you don't plan on crafting along. You can pause during each step, just remember the video will be gone by 9am EST. the next day, so I'll be good to take notes.
Once you gather all the supplies mentioned above and remember these tips, you'll be ready for the Holiday Cricut Craftfest Summit! I hope to see you there! If you make my Holiday Cups please tag me in a picture so I can see @ginaccreates.  If you have any questions about my files or workshop you can comment below or email me at [email protected] .
If you purchase the VIP ACCESS PASS you will get my Halloween and Thanksgiving wraps as well! (See image below). You'll have a cup for each holiday season!