3D Memorial Angel Wings SVG and Tutorial
(Note: This post may contain affiliate links. I make a small commission on any purchase you make, with no extra cost to you)!
Today I will show you how to put together my 3D Memorial Angel Wings SVG! I was inspired to design this memorial keepsake for a dear friend who lost her father recently.  Losing loved ones is so painful and I can't help but to create a keepsake to honor and remember the wonderful moments they had with that person. So I decided this is a great project to share with you, so that you may honor and remember your loved ones that passed as well!

Here is what you will need to create your keepsake!
Picture of Loved One
scissors
printer
3D Angel Wings Memorial Keepsake Instructions
My SVG design is meant to be used with cardstock and is perfectly sized for a 9×9 shadow box.  The wings have eight layers that you can change the colors to fit your project!
Open up Design Space and upload the SVG file type! If you need help with finding the SVG in the Zip folder look here!
Next upload your favorite picture of your loved one.  This should be a nice quality jpeg. Click on complex image for the program to capture every detail. Then click continue.
You may edit image if needed. Then save as a Print & Cut image.
Import both, 3D Memorial SVG and picture into your canvas.  Then "UNGROUP" the SVG.
For the picture you will want to scale it down to 3 inches tall (height).
Next, "UNGROUP" the hearts. Move the light gray smaller heart over your picture, then select both layers and click "SLICE". You will end up with your picture in the shape of a heart. You may delete the scraps.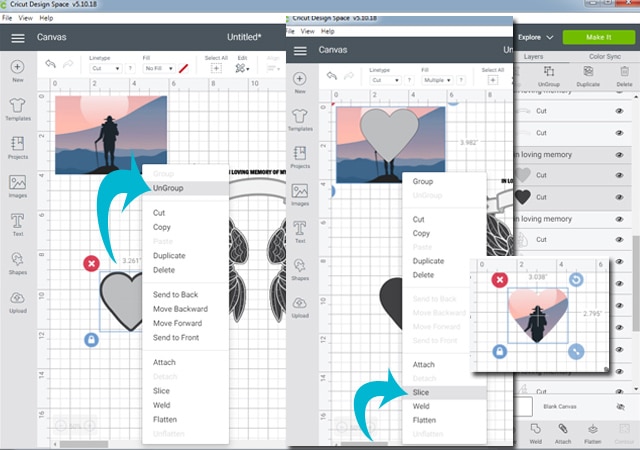 Now it is time to personal your text. Click on the group "In loving memory of my" and click "ATTACH". Next, add a title of your loved one. (Dad, Mom, Grandpa, Grandma etc).  I used the font Franklin Gothic Heavy (size 72pt) for the title and Franklin Gothic Demi Cond (size 24pt) for the In loving memory part.
To curve your title, like DAD, you will use the curve tool along the top. Make sure you have your text selected, then slide the dot over to the right until it fits nice on the ribbon, and click "ATTACH".
If you would like to add their name and dates under the title, make a new text box with your type tool and use Franklin Gothic Demi Cond (size 24pt). Then make sure to "ATTACH" once typed out.  I used black 651 vinyl for my wording.
Now you are ready to click MAKE IT! You will print and cut your image. I printed on matte photo paper, and turned on System Dialog to change my print setting to high. After print drys, set dial to CARDSTOCK+ and cut.
Once you cut everything out on your Cricut machine, I like to organize my layers in order that they will stack in. One wing will have a total of 6 layers.
Take your foam tape and cut tiny strips. and place them on the back of the wings. I start with the back piece and work my way up!
Here is the process so far with the bottom 3 layers stacked. (On the left).
Here is the left wing finished.  Do the same to the right wing, make sure  you stack it mirrored to the left wing.
After weeding your text, I apply the title to the white part of the ribbon and stack the outline on top of that.
Use foam tape to layer the picture over the larger heart.
Take apart your shadow box and position your wings on the backing and use foam tape or hot glue to adhere. Next use foam tape to add the ribbon over the wings.  Do the same to place the heart towards the bottom of the wings.

Now you can put the shadow box back together to apply the rest of the text over the front glass piece.
And you are done! I really hope you enjoyed this Memorial project!
3D Angel Wings Memorial SVG
3D Angel Wings Memorial Shadow Box Video Tutorial
Watch this video on
YouTube
!
New Updated Design
Design comes with a thicker outline to make assembly easy! Click on image or visit my Etsy Shop to purchase, comes with both designs and a commercial license for your small business! You can purchase it in my SHOP!
Related Post: Pet Angel Wings Memorial